Ok, I'll be honest with you here. We do try to keep the "baby talk" to a minimum around our house but nothing could be cuter than when my baby takes a "dwink" using her Dwink.

This unique mom invention was thought up after Dwink founder, Yvonne Huang did numerous testing on other drink holders and they couldn't live up to her standards. If she still had to say, "Don't squeeze!" to her kids then they just weren't good enough.


Dwink is made in the U.S.A and known as the universal drink box holder by many. You'll find that most drink boxes fit into its handy shape.

Hailey and Noel are drinking Aqua2Go...learn more about that fabulous invention HERE.




This unique product has even been featured in Real Simple, check it out (click on image to enlarge)!















You can pick up one or several Dwink box holders HERE for only $4.99. That's a STEAL ladies and gents! We'd also like to give you a chance to...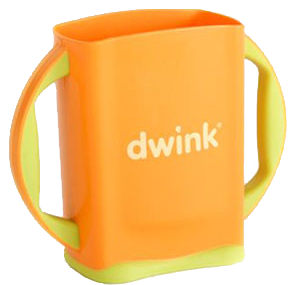 WIN IT!

We have a Dwink box holder to give away to one luck MTW reader! The holder is orange, as pictured to the left.

To enter, leave a comment on this post and let us know what YOUR most used baby word is (if you have one). Ours is actually "bwankie". It's just too cute not to repeat. This contest will end on Friday, September 7th at 10 pm CST.

Good luck!

Dwink is: